|Intelligent Systems home page | Archives | Search | Editorial board & staff |
| Subscriptions | Author guidelines | Copyright | Reprints | Information for advertisers |
---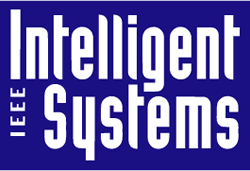 ---
Vol. 16, No. 3, May/June 2001
Note: The full text of IEEE Intelligent Systems is available to members of the Computer Society who have an online subscription and an e-account.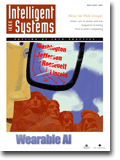 Download all PDF files for this issue in a single ZIP file (6,590 kbytes), or browse online using the table of contents below.
Note: All PDF files are optimized for Adobe Acrobat 4.0
Table of Contents in PDF format
---
WEARABLE AI

Guest Editor's Introduction: Wearable Computing--Toward Humanistic Intelligence
Steve Mann


Personal Contextual Awareness through Visual Focus (available without subscription)
Li-Te Cheng and John Robinson


Telme: A Personalized, Context-Aware Communication Support System
Kaoru Sumi and Toyoaki Nishida


A Headset-Based Minimized Wearable Computer
Soichiro Matsushita


Vision-Based Single-Stroke Character Recognition for Wearable Computing
Ömer Faruk Özer, Oguz Özün, C. Öncel Tüzel, Volkan Atalay, and A. Enis Çetin


Toward Context-Aware Computing: Experiences and Lessons
Joshua Anhalt, Asim Smailagic, Daniel P. Siewiorek, Francine Gemperle, Daniel Salber, Weber, Jim Beck, and Jim Jennings


Implementing Assistive Technology on Wearable Computers
David A. Ross


---

Semantic Web

XML Declarative Description: A Language for the Semantic Web
Vilas Wuwongse, Chutiporn Anutariya, Kiyoshi Akama, and Ekawit Nantajeewarawat


Ontology-Based Photo Annotation (available without subscription)
A.Th. (Guus) Schreiber, Barbara Dubbeldam, Jan Wielemaker, and Bob Wielinga


---

DEPARTMENTS

From the Editor in Chief
Nigel Shadbolt
Caught Up in the Web


Intelligencer (available without subscription)
Smart Cars in Peace and War
Wearable Vest Computing
Self-Aiming Camera Recognizes Visual and Audio Cues
New Center for AI


Intelligent Transportation Systems
Gerd Krämer
Envisioning a Radar-Based Automatic Road Transportation System


Internet Services
Giovanni Flammia
Peer-to-Peer Is Not for Everyone


Book Review
Erol Sahin
The Age of Spiritual Machines


AI Briefs
Kenneth I. Laws
Clips from the Computists' Weekly

---
|Intelligent Systems home page | Archives | Search | Editorial board & staff |
| Subscriptions | Author guidelines | Copyright | Reprints | Information for advertisers |
Send questions or comments to webmaster@computer.org.
This site and all contents (unless otherwise noted) are Copyright © 2001, Institute of Electrical and Electronics Engineers, Inc. All rights reserved.