Next:
WearComp7: The `underwearable'
Up:
Video for your head
Previous:
Video for your head
A VGA to NTSC converter is useful in making the transition from VGA computers to NTSC computers, because it will allow you to move toward NTSC displays, yet still use these with the older generation of VGA computers. Accordingly, I describe how a low cost converter can be adapted to use with WearComp6.
If your NTSC television or other device uses baseband video input, begin by purchasing a ``Pocket Scan Converter'' from AiTech (a.k.a. AITech, AI Tech, etc.), cost approx. $129). If you are using a T.V. with tuner, and want to drive the antenna input, obtain the version of the scan converter with built in R.F. modulator (that's assuming you're too lazy to rip open the T.V. set and "hack" past the tuner).
The scan converter consumes considerable power, owing to a very inefficient regulator inside. However, the efficiency can be roughly doubled by removing this regulator, and replacing it with a PowerTrends ST105VC integrated switching regulator (ISR).
The ``pocket scan converter'' is held shut with a single screw, which is hidden under one of the labels on the bottom. Peel back and unscrew (Fig 11).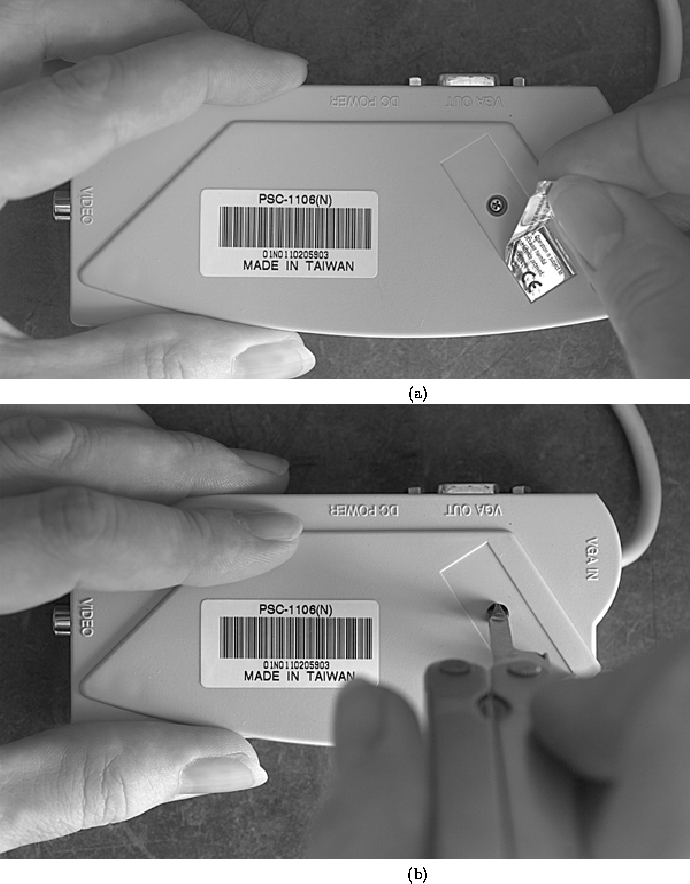 Figure 11: The ``pocket scan converter'' is held shut with one screw, which is hidden under one of the labels on the bottom. (a) Peel back. (b) Unscrew.

Once the screw is removed, pry open and take out the circuitboard. Locate the offending 7805 regulator (Fig 12) and remove the screw holding it in.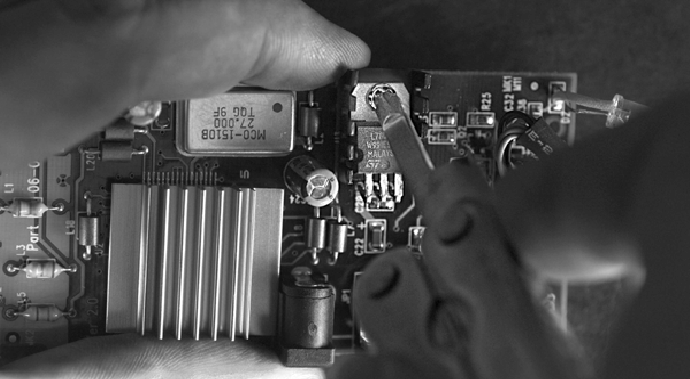 Figure 12: Take the circuit board out of the ``pocket scan converter''. Remove the screw holding it in.

Now desolder the 7805 and install the ISR in its place. (See Fig 13.)

Figure 13: Desolder the 7805 linear regulator and replace with ISR.

There is plenty of room inside the scan converter case for the larger ISR, even though this is a very small-sized scan converter.
Connect red and black wires for 12 volt input, route through case, and re-assemble. Add red and black banana plugs, and you are ready to use the scan converter together with the computer. This combination may be used with a low cost wearable television set (such as VirtualVision), or with a high quality camcorder viewfinder. If you are using the lower resolution TV set (like the standard VirtualVision unit), then you may want to run XF86 with increased font size (e.g. 30x12).
You may be able to run both the TV and the scan converter off the same ISR, e.g. virtualvision can be modified to run off 5v, in which case it can take the same power source as the scan converter. In either case, I usually install a switch upstream of all but the CPU so that the TV, scan converter, and various other items can be shut off with a single switch.
---
Next:
WearComp7: The `underwearable'
Up:
Video for your head
Previous:
Video for your head
Steve Mann
Wed Dec 24 05:46:06 EST 1997